Charleston, SC
WhatsNew: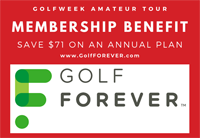 To all Golfweek Amateur Tour Members,
On behalf of the entire Golfweek organization, I want to thank you for your membership of the Golfweek Amateur Tour. We are incredibly proud of our relationship with what we feel is the best option for organized amateur competition for folks like you and me.
I am writing to inform you of some changes to our magazine frequency and format for 2021. Our plan is to publish four issues in 2021 including our annual Golfweek's Best in April and Ultimate Guide in December. In addition to these two issues, we will publish a new issue called Get Equipped in February that will highlight everything new in the game for 2021 including equipment, gear, places to visit and more. The second new issue is titled Golf Life in July and will feature in-depth stories and interviews with the movers, shakers and personalities that drive the business and sport of golf. We are excited about the new schedule and plan to bring the same style of expert, in-depth journalism that you expect from Golfweek..
I hope that you also enjoying www.golfweek.usatoday.com as well as our weekly digital newsletter products including: Monday Rewind, Get Equipped, Get Primed, Golf Life and Get Better. You can sign up for these here.
Thank you again for being a Golfweek Amateur Tour Member.
Sincerely,
Patrick Leahy
VP of Revenue - USA TODAY Golf
Publisher – Golfweek
CurrentNews:

As a Golfweek Amateur Tour Member, you will receive membership into a -USGA compliant club through USHandicap.com and issued an official USGA index.
Within 45 days of joining the tour and filling out the 2022 registration, each member will receive an email from USHandicap with instructions on how to sign into your account. You will not be able to access your Silver membership until you receive the confirmation email. Nothing will be mailed, everything will be done via email address.
See FAQ's here for more information.
Sign up today for Golfweek's FREE newletters reporting on the latest and greatest happenings in the game of golf.
Click here to jump to the list of stories...

LAKE LURE RUMBLING BALD STAMPEDE

The Charleston and Upstate Tours along with members from 9 visiting tours took to the mountains this past weekend!! Lake Lure's Bald Mountain Golf resort welcomed them and to say the golf and views were spectacular is an understatement. Everyone enjoyed themselves, spectacular views rivaling what we will see in September at the Ryder Cup we to be had everywhere!

The weekend started early with a 8:30 AM shotgun start both days. All the golfers assembled at Lake Lure for Day one of the tournament. The Championship Flight was led by Kyle Moffett and Chris White who both fired opening rounds of 3 over par to share the lead. Mike Cobb was sitting two shots back and 3 other golfers, B.J. Hill, T.A Fulmer and Bill Jenner were three shots back making it anyone's game on Sunday.

On Sunday it was just a matter of who would step up and take it. While Kyle Moffett equaled his day one score, the field was run over by Bill Jenner and his five Birdies to secure a one-shot victory over Kyle Moffett.

The A flight had some spectacular golf on display, Sat at Lake Lure, Jim Goulding fired a one over par 73 to take a one-shot lead on Boone Wanner who posted a spectacular 74. James Badgley and Lee Dixon were 3 and 4 shots back respectively. On Sunday Boone and Jim battled back and forth both posting very nice rounds of 80 to take the top two spots while Westfield Brown had the round of the day and fired a 3 over par 75 to climb into the third spot!

The B flight started Sat with three golfers firing first rounds of 85 to be tied for Second Place five shots behind leader Tim Sumption who eagled his final whole of the day. Sunday Started with Tim going five over on the first three holes to wedge a tie between him and two other golfers. Tim's second day 84 was enough to secure a two-shot victory over Jamie Branham. David Smith, Jason Courtney and Chris Franklin rounded out the top five.

The C flight started on Saturday like the B flight with three guys firing 84's to finish the first day one shot in back of Bruce Berdine. This left it wide open for Sunday on a course that could easily bring the field together or separate depending upon the score. As expected, the difficult mountain course opened up the field and it was Ed Cassady who posted a very solid round of 85 and climbed to the top of the leaderboard to secure the one-shot victory over Mark Dyvig and Randal Garver.

The D flight had the only playoff as Charleston's David Deese who had just lost in a playoff at the Match play event to his son, proved to be to tough for the youngster Alex Franklin. The two were tied after a two day total of 180, four shots up on Al Hooper (184) and took to the 18th hole with the spectators viewing from the scoring porch. David rolled in a a nice par putt to secure the victory!

Overall it was a great time had by all and we are already looking at dates for next year!