Congratulations to the 2022 Golfweek Amateur Tour National Champions!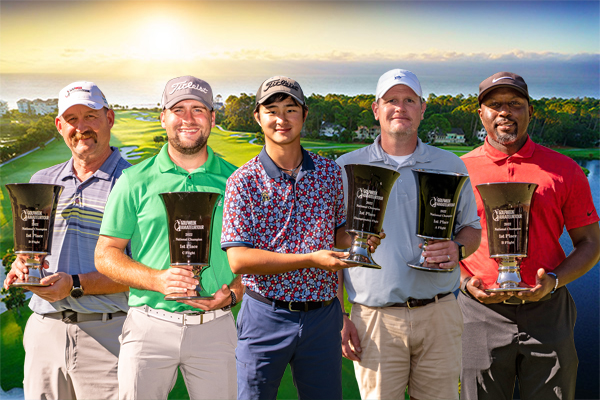 Left to Right: Brad Knox, Columbus OH - D Flight
Thomas Vilardi, North Central Florida - C Flight
Genki Sadato, Tampa, FL - Championship Flight
Michael Witherington, Augusta, GA - A Flight
Byron Johnson, Columbia, SC - B Flight

Over 900 players from all 48 tours competed in the 2022 Golfweek National Championship!
HILTON HEAD ISLAND, S.C. – This year's tournament marked the 28th anniversary of the Golfweek Amateur Tour and drew the second largest field in tour history. In all, over 900 players competed in the three-day event and members from each of the 48 local tours participated.

In the Championship Flight, Genki Sadato won his first National Championship by only one shot over Lance Lacombe. Sadato opened the tournament on Friday at Hampton Hall CC with a two-under-par round of 70 which was five shots back from Max Simons and Corbin Holt who both had five-under-par rounds of 67. Hampton Hall belonged to HB Kim on Saturday. Although Kim ultimately finished in third place, this round earned him spot in the record books for the lowest round ever posted in a National Championship (an unbelievable nine-under-par of 63). The weather and perfect course conditions on Sunday enabled players to again go low. In fact, the low round of the day came from our winner, Genki Sadato, with an eight-under-par round of 64 which edged out Lance Lacombe's 65. Sadato's three-round total of fourteen-under-par smashed all scores ever posted during the National Championships. In all, thirteen players finished with three-day totals of two-under-par or better. Joe Jasper, the Tour's only 6-time National Champion, finished in 6th place with a seven-under-par (a score that would have won outright any other year) and one stroke behind Matt Green and Chuck Spears who both tied for fourth.

Genki Sadato, Tampa, FL (70-68-64—202)
Lance Lacombe, Jacksonville, FL (70-68-65—203)
HB Kim, El Paso, TX/ Las Cruces, NM (71-63-73—207)
Matt Green, Cincinnati/Dayton (70-71-67—208)
Chuck Spears, Louisiana North (70-68-70—208)

In the A Flight, we had a three-way tie when Michael Witherington, Chris Pontello and Doug Cristina remained tied after 54 holes with scores of 236. So, back they went to the 18th hole at Atlantic Dunes, the hardest hole on the course. Witherington and Pontello tied and moved on to hole number one. The two battled it out until finally, after three more holes, Witherington was victorious with pars on all four playoff holes to become the new A Flight National Champion.

Michael Witherington, Augusta, GA (80-76-80—236)
Chris Pontello, Michigan East (78-78-80—236)
Doug Cristina, Mississippi (71-79-86—236)
Sokhary Pavese, Eastern, NC (77-78-82—237)
Kyle Buck, Indianapolis, IN (78-81-79—238)

In the B Flight, Byron Johnson won after firing the low round of the day (77) and finished with a three-day score of 237. Matthew Swedberg finished seven strokes behind Johnson in second place and fifteen-year-old Alex Franklin placed third. The win by Johnson made him the first-ever National Champion from the Columbia, SC Tour.

Byron Johnson, Columbia, SC (81-79-77—237)
Matthew Swedberg, Eastern, NC (80-82-82—244)
Alex Franklin, Upstate SC (82-82-82—246)
Jeff Mast, Cleveland/Akron (86-82-79—247)
Naren Achanta, Michigan East (82-84-81—247)

The C Flight saw Thomas Vilardi take home his first-ever National Championship with a three-day score of 252. Going into the final day, Vilardi only had a one-shot lead over both Garrett Maynard and Rob Luter. Vilardi managed to pull away on day three for the victory and the trophy.

Thomas Vilardi, North Central Florida (83-87-82—252)
Garrett Maynard, Columbus OH (86-86-87—259)
Robert Luter, Arkansas (86-85-88—259)
Joshi Balla, Columbus, OH (86-85-89-260)
Drew Cantrell, Augusta, GA (83-90-88—261)

In D Flight, Brad Knox beat Nick Taylor by four shots to become the National Champion with a three-day score of 269. Sunday was just a two-horse race as Taylor pushed hard to make up a few shots and close the gap. Ultimately, Taylor came up short and Knox took home the hardware.

Brad Knox, Columbus OH (88-90-91—269)
Nick Taylor, Washington, DC Metro (89-92-92—273)
William Beck, Columbia, SC (89-98-91—278)
Kim Crank, Tidewater, VA (98-91-90—279)
Stan Lee, Arkansas (88-98-93—279)

The Cincinnati/Dayton Tour won their first ever the Team Cup with a three-day total of 2538 stokes. The Jacksonville, FL Tour took second with 2541 shots followed by last year's winner Hilton Head/Savannah Tour at 2547. The Atlanta, GA Tour finished fourth at 2563 followed by Columbus, OH with a three-day total of 2572.
See Previous National Tour Championship Results here