New York
WhatsNew: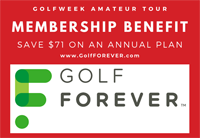 To all Golfweek Amateur Tour Members,
On behalf of the entire Golfweek organization, I want to thank you for your membership of the Golfweek Amateur Tour. We are incredibly proud of our relationship with what we feel is the best option for organized amateur competition for folks like you and me.
I am writing to inform you of some changes to our magazine frequency and format for 2021. Our plan is to publish four issues in 2021 including our annual Golfweek's Best in April and Ultimate Guide in December. In addition to these two issues, we will publish a new issue called Get Equipped in February that will highlight everything new in the game for 2021 including equipment, gear, places to visit and more. The second new issue is titled Golf Life in July and will feature in-depth stories and interviews with the movers, shakers and personalities that drive the business and sport of golf. We are excited about the new schedule and plan to bring the same style of expert, in-depth journalism that you expect from Golfweek..
I hope that you also enjoying www.golfweek.usatoday.com as well as our weekly digital newsletter products including: Monday Rewind, Get Equipped, Get Primed, Golf Life and Get Better. You can sign up for these here.
Thank you again for being a Golfweek Amateur Tour Member.
Sincerely,
Patrick Leahy
VP of Revenue - USA TODAY Golf
Publisher – Golfweek
CurrentNews:

As a Golfweek Amateur Tour Member, you will receive membership into a -USGA compliant club through USHandicap.com and issued an official USGA index.
Within 45 days of joining the tour and filling out the 2022 registration, each member will receive an email from USHandicap with instructions on how to sign into your account. You will not be able to access your Silver membership until you receive the confirmation email. Nothing will be mailed, everything will be done via email address.
See FAQ's here for more information.
Sign up today for Golfweek's FREE newletters reporting on the latest and greatest happenings in the game of golf.
Click here to jump to the list of stories...

Dennis Ryan, Kevin Marshall, Kodie Hilbert, Bob Vito and Jack San Pietro all win at Douglaston!




Douglaston GC is located in Queens formerly known as North Hills CC. It is situated in the highest point in Queens, providing picturesque views of the Manhattan skyline. The course is unique with having only a par 67 which includes seven par three's and only two par fives.

Champ Flight:

Dennis Ryan wins for the second time this season with a round of 73.

A Flight:

Kevin Marshall wins by four shots at 74 followed by Matt Beal with 78. Ed Keough was third at 81 and Thomas Butcher in fourth with 82.

B Flight:

Kodie Hilbert (New Jersey) had the round of the day and took home the crystal with 71 followed AJ Kumar with 83.

C Flight:

Bob Vito came out victorious with 79 followed by Keno Chambers in second at 86. Rich Slizewski was third at 90 followed by Jimmy Chwe with 91.

D Flight:

Jack San Pietro wins with 91 followed by Tom Cavanagh 98 and Bill Pridgen third with 101.

---

Other news...
Bobby Booth, Joseph Holzapfel, Dona Wallerius, Danny Jimenez and Mike Millinic all win at Mansion Ridge!
Dennis Ryan, Kevin Marshall, Kodie Hilbert, Bob Vito and Jack San Pietro all win at Douglaston!
​Duane Sebastian, George Miles, Danny Jimenez and Mike Milinic all win at Marine Park GC!
Thomas Butcher, Matthew Beal, Rob Hennigar and Mike Milinic all win at Patriot Hills!
​Matthew Lombardi, Kevin Marshall, Jimmy Tubbs, Kevin Brennan and Denise Cardibale all win at Swan Lake GC!
Dennis Ryan, Duane Sebastian, Kodie Hilbert, Rob Hennigar and Chris Giunta all win at Hudson Hills!
Andre Capozziello, Todd Swearigen, Juan Ayala, Rob Hennigar and Tim Cavanagh all win at Tam O'Shanier CC!
Charles Seward, Carlos Fonts and Scott Martin all win at Centennial GC!
2017 IceBreaker (Trent Jones & Harbour Town)
Charles Seward, Carlos Fonts and Scott Martin all win at Centennial GC!
2016 Golfweek Four Ball Championship
2015 Tour
TOUR Stop #1 Trump -Ferry Point 4/15/15
LATEST TOUR NEWS & UPDATES.....