National tour championship
The 2022 Golfweek Amateur Tour National Championship will be in held October 14-16 with a flighted skins game on October 13.
Congratulations to the 2021 Golfweek Amateur Tour National Champions!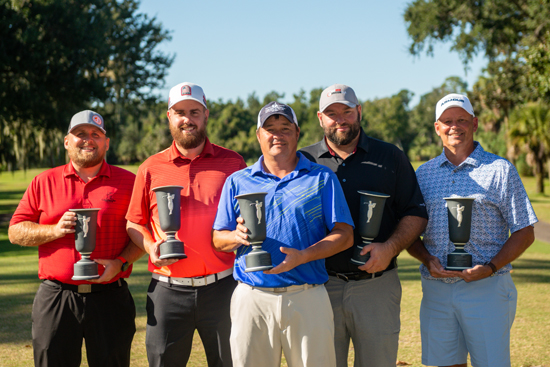 Left to Right: Dougy Phillips, Philly Metro- C Flight
Brent Densmore, Hilton Head- Savannah - A Flight
Jeff Wong, Hilton Head- Savannah - Championship Flight
Matt Jacobs, Indiana-Western KY - B Flight
Scott Holland, Augusta, GA - D Flight

Over 1000 players from all 48 tours competed in the 2021 Golfweek National Championship!
HILTON HEAD ISLAND, S.C. – This year's tournament marked the 27th anniversary of the Golfweek Amateur Tour and drew the largest field for the National Championship in tour history. In all, a record 1026 players competed in the three-day event. Three of the five flights were tied after 54 holes and resulted in sudden-death playoffs to decide our National Champions.

In the Championship Flight, Jeff Wong won his second National Championship by two shots over Chad Frank. Wong opened the tournament on Friday at Atlantic Dunes with a one-under-par round of 71 as did Chad Frank and Eddie Connelly. Saturday at Atlantic Dunes, Wong posted a four-over-par round of 76 leaving him five shots behind Frank who was two-under-pargoing into the final round. On Sunday, Wong started out hot getting it to three-under-par early and then he never looked back as he closed with a two-under-par round of 70 for the victory.
Jeff Wong, Hilton Head/Savannah (71-76-70—217)
Chad Frank, Orlando (71-71-77—219)
Eddie Connelly, Eastern, NC (71-74-82—227)
Jay Barnes, Charlotte, NC (76-78-74—228)
Wes Fennel, Hilton Head-Savannah (74-83-73—230)

In the A Flight, Brent Densmore and Robin Gomez remained tied after 54 holes with scores of 231. So, back they went to the 18th hole at Hampton Hall, the hardest hole on the course. Densmore sealed the win with a par to become the A Flight National Champion in the field of 215 players.
Brent Densmore, Hilton Head-Savannah (72-77-82—231)
Robin Carey, Orlando (75-79-77—231)
Matt Overmyer, Denver (77-81-75—233)
Scott Johnson, Arkansas (74-84-75—233)
Matt Bankston, Mississippi (78-81-75—234)

In the B Flight, Matt Jacobs and Trey O'Neal both remained tied after three rounds with totals of 242. The sudden-death playoff went one hole at Robert Trent Jones with Matt Jacobs winning and becoming the first ever National Champion for the Indiana-Western, KY tour.
Matt Jacobs, Indiana-Western, KY (81-80-81—242)
Trey O'Neal, Louisiana North (73-86-83—242)
James Branham, Central NC (83-83-79—245)
Andrew Godbold, Chicago (84-86-77—247)
Andy Ricci, Charlotte, NC (83-85-79—247)

The C Flight resulted in the third sudden-death playoff of this year's National Championships. Dougy Phillips and Danny Jimenez both were tied at 258. After two playoff holes at Oyster Reef, Phillips became the 2021 C Flight National Champion.
Dougy Phillips, Philadelphia, PA Metro (86-86-86—258)
Danny Jimenez, Metro NY (88-83-87—258)
Chuck Skelton, Indianapolis, IN (84-88-88—260)
William Kyle, Louisiana South (82-96-86-264)
Brandon Williams, Augusta, GA (85-98-82—265)

In D Flight, Scott Holland won by three shots to become the National Champion over Ricardo Almeida with a three-day total of 266.
Scott Holland, Augusta, GA (91-86-89—266)
Ricardo Almeida, El Paso, TX/ Las Cruces NM (88-90-91—269)
Cody Peyton, Columbia, SC (92-90-88—270)
DJ McClure, Tampa, FL (87-92-92—271)
Louis Ralph, Arkansas (88-88-97—273)

The Hilton Head/Savannah Tour took the Team Cup with a three-day total of 2502 stokes. It was the second team cup victory within the last three years since winning in 2019. The Charlotte Tour took second with 2508 shots followed by Louisiana South at 2512. The Arkansas Tour Tour finished fourth at 2514 followed by Orlando, FL with a three-day total of 2530.
See Previous National Tour Championship Results here