Atlanta, GA
WhatsNew: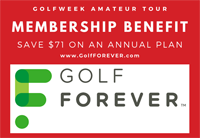 To all Golfweek Amateur Tour Members,
On behalf of the entire Golfweek organization, I want to thank you for your membership of the Golfweek Amateur Tour. We are incredibly proud of our relationship with what we feel is the best option for organized amateur competition for folks like you and me.
I am writing to inform you of some changes to our magazine frequency and format for 2021. Our plan is to publish four issues in 2021 including our annual Golfweek's Best in April and Ultimate Guide in December. In addition to these two issues, we will publish a new issue called Get Equipped in February that will highlight everything new in the game for 2021 including equipment, gear, places to visit and more. The second new issue is titled Golf Life in July and will feature in-depth stories and interviews with the movers, shakers and personalities that drive the business and sport of golf. We are excited about the new schedule and plan to bring the same style of expert, in-depth journalism that you expect from Golfweek..
I hope that you also enjoying www.golfweek.usatoday.com as well as our weekly digital newsletter products including: Monday Rewind, Get Equipped, Get Primed, Golf Life and Get Better. You can sign up for these here.
Thank you again for being a Golfweek Amateur Tour Member.
Sincerely,
Patrick Leahy
VP of Revenue - USA TODAY Golf
Publisher – Golfweek
CurrentNews:

As a Golfweek Amateur Tour Member, you will receive membership into a -USGA compliant club through USHandicap.com and issued an official USGA index.
Within 45 days of joining the tour and filling out the 2022 registration, each member will receive an email from USHandicap with instructions on how to sign into your account. You will not be able to access your Silver membership until you receive the confirmation email. Nothing will be mailed, everything will be done via email address.
See FAQ's here for more information.
Sign up today for Golfweek's FREE newletters reporting on the latest and greatest happenings in the game of golf.
2021 Reynolds Lake Oconee Classic Recap

Contributed by Sean Naylor

The Reynolds at Lake Oconee Classic in Greensboro, Georgia hosted players from 22 different tours in the fourth event in the 2021 Golfweek Amateur Tour Regional series. The National, a course made up of three, nine-hole layouts, offered many challenges. The field of 136 players proved to be up for it, and they didn't disappoint!




Brian Quackenbush, from the Augusta Tour, took the top spot in the Championship Flight for the second year in a row by shooting a 3-under-par for the weekend (141). One stroke separated second and third place finishers Steve Kubik, also from the Augusta Tour, and Jason Ondriezek, an Atlanta Tour member. Kubik's strong day-one performance was just enough to hold onto a 153-154 advantage at the tournament's conclusion on Sunday. Will Nummy, from the Chicago Tour, shot a 156, placing fourth.

Saturday and Sunday rounds of 76 were good enough for Adam Davis (Augusta) to capture the A Flight win (152). Wayne McKenney, also from Augusta, wasn't too far behind, shooting a 155 over the two days for second. James Peugh, a third Augusta member, placed third (158) while Leon Hunt, of the Columbia, SC Tour, carded a 161, good for fourth.

Jeff Duncan, an Eastern NC Tour member, beat Terry Dunn (Atlanta) in the first playoff hole to take the B Flight win. Both players shot a 173 as the round wrapped up on Sunday. Beth Hunt, a Myrtle Beach-Wilmington Tour member, and Matthew Fiedler, an Atlanta Tour member, both shot a 174, finishing in a two-way tie for third. Three players carded a 178, tying for fifth: Crys Peyton (Columbia, SC), Mike Anderson (August, GA), and Josh Smith (Las Vegas, NV).

Mark Rigby, an Alabama Tour member, consistently made shots throughout the tournament to hold onto the C Flight lead, and the eventual victory. Rigby carded a two-day total of 173. The flight's next four finishers were separated by one stroke each: Mike Lovett (177) from Atlanta, Chris Winkler (178) from Augusta, Tony James (179) from Augusta, and Trevor Horne (180) from Eastern NC.

Wesley Nichols (Columbia, SC) earned the win in the D Flight with a combined two-day score of 185. Scott Holland (Augusta) placed second (189) while David Schimdt (Augusta), and Michael Moore (Atlanta), finished third (190) and fourth (191) respectively. Nick Taylor, from the DC Metro Tour, rounded out the top-5 with a 194.