Minneapolis/St. Paul, MN
WhatsNew: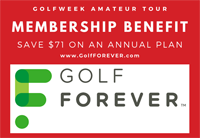 To all Golfweek Amateur Tour Members,
On behalf of the entire Golfweek organization, I want to thank you for your membership of the Golfweek Amateur Tour. We are incredibly proud of our relationship with what we feel is the best option for organized amateur competition for folks like you and me.
I am writing to inform you of some changes to our magazine frequency and format for 2021. Our plan is to publish four issues in 2021 including our annual Golfweek's Best in April and Ultimate Guide in December. In addition to these two issues, we will publish a new issue called Get Equipped in February that will highlight everything new in the game for 2021 including equipment, gear, places to visit and more. The second new issue is titled Golf Life in July and will feature in-depth stories and interviews with the movers, shakers and personalities that drive the business and sport of golf. We are excited about the new schedule and plan to bring the same style of expert, in-depth journalism that you expect from Golfweek..
I hope that you also enjoying www.golfweek.usatoday.com as well as our weekly digital newsletter products including: Monday Rewind, Get Equipped, Get Primed, Golf Life and Get Better. You can sign up for these here.
Thank you again for being a Golfweek Amateur Tour Member.
Sincerely,
Patrick Leahy
VP of Revenue - USA TODAY Golf
Publisher – Golfweek
CurrentNews:

As a Golfweek Amateur Tour Member, you will receive membership into a -USGA compliant club through USHandicap.com and issued an official USGA index.
Within 45 days of joining the tour and filling out the 2022 registration, each member will receive an email from USHandicap with instructions on how to sign into your account. You will not be able to access your Silver membership until you receive the confirmation email. Nothing will be mailed, everything will be done via email address.
See FAQ's here for more information.
Sign up today for Golfweek's FREE newletters reporting on the latest and greatest happenings in the game of golf.
Minneapolis/St. Paul Amateur Golf Tour Rules

All rules below subject to change at the tournament

site.

Due to Covid 19 some rules have been added to help keep players safe!




1)Play all Wetlands and Natural areas as a lateral hazard.

2)OB: Balls hit Out of Bounds will result in a 1 stroke penalty and are to be dropped two club lengths from the nearest point where the group deems it went out of bounds.

3)Maximum of 3 minutes to locate balls.

4)Lost Ball: In the event of a lost ball with help of players in your group determine where ball was headed and drop ball in play with a 1 stroke penalty.

DO NOT GO BACK TO TEE BOX DROP BALL AND PROCEED.

5)Bunkers: You will be allowed to lift ball smooth sand with foot to a preferred lie place ball back in sand and hit.

Upon completion of round verbally confirm your score with group appointed score keeper. group appointed score keeper will Place official Group scorecard in Golfweek Scorecard box on scoring table. Due to Covid-19 signatures from each player is not required. It is up to each player to confirm the correct score with the group score keeper before card is turned in once the card is in the box scores are final.

All scoring is by scratch score on a hole, no handicap.

Due to Covid 19 All ties for first place in each Flight will be broken by Scorecard Playoff

and will be decided by the #1, #2, #3 lowest handicap holes, etc. until the tie is broken.

Simply put, if the course allows us on the course, we play. Bad weather is not of itself good reason for discontinuing play. However, per Rule 6.8.a (ll), a player may discontinue play if he/she believes there is danger from lightning. If the course is monitoring the weather and deems it unsafewe will sound the horn and end play. If all players have completed 9 holes we will crown winners for the event. if all players have not completed 9 holes we will work with the course to find a date to finish our event.

PLEASE forgo honors on the tee box, and play ready golf

.

TRIPLE BOGEY

is maximum on any hole,

this is a National pace of play rule, so please pick up if you reach 3 over par on any hole, and mark that hole with a triple bogey on scorecard.

(with the exception of Champ Flight)

Championship Flight must putt out every hole.




Lateral Hazard

: Both Sides of the golf Course will be played as lateral hazard, except where

OUT of BOUNDS

markers (fences, and roads) are present on that hole. If these are present on a hole then you must then follow the out of bounds rule of stroke and distance.




No Gimmie Putts

: you must putt all putts,

with the exception that you may pick up if you are three or more over par for that hole (a Triple bogey)

Championship Flight must putt out all the way.




USGA rules apply:

if you have a rules question, play two balls for the remainder of that hole and a decision will be made after the round, by the rules committee.

PLEASE:

forgo honors on the tee box, and play ready golf.




Rangefinders:

may be used during tournament. (With no slope feature)

Due to weather conditions, tees may be adjusted by the rules committee to insure a fair and competitive tournament. You will be instructed before each tournament what tees will be used for that round for the different flights.

These may be different than was posted in earlier emails.

This season the Minneapolis/St. Paul Tour will also have an optional Skins game. $20 Online buy in only. This skins game is for all flights together. If any flight reaches 20 players or more at any given event that flight will be separated from the over all skins game and become its own skins game.

Once you sign up for a Minneapolis/St. Paul Tour event you are responsible for payment, this is still the case if you were planning on paying at check-in. This is due to, some of the golf courses require me to pre-pay green fees a few days in advance as per our tournament contact. However, I understand that sometimes you must cancel playing in an event. If this happens please notify me as soon as you can. If notified one 5 days in advance, I should be able to get you back your full entry fee, and I will apply it towards your next Minneapolis/St. Paul Tour event. If it is within 24 hours of the event please call or text me at

(651)8001798

.

If by text make sure you get a response

. If you just don't show up for an event and/or don't cancel with me before check-in is over for that event, then your entry fee may be forfeited.

I don't want to keep your entry fees if you cannot play. Just let me know you are cancelling as soon as you can, and everything should work out.