New York
WhatsNew: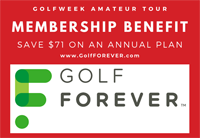 To all Golfweek Amateur Tour Members,
On behalf of the entire Golfweek organization, I want to thank you for your membership of the Golfweek Amateur Tour. We are incredibly proud of our relationship with what we feel is the best option for organized amateur competition for folks like you and me.
I am writing to inform you of some changes to our magazine frequency and format for 2021. Our plan is to publish four issues in 2021 including our annual Golfweek's Best in April and Ultimate Guide in December. In addition to these two issues, we will publish a new issue called Get Equipped in February that will highlight everything new in the game for 2021 including equipment, gear, places to visit and more. The second new issue is titled Golf Life in July and will feature in-depth stories and interviews with the movers, shakers and personalities that drive the business and sport of golf. We are excited about the new schedule and plan to bring the same style of expert, in-depth journalism that you expect from Golfweek..
I hope that you also enjoying www.golfweek.usatoday.com as well as our weekly digital newsletter products including: Monday Rewind, Get Equipped, Get Primed, Golf Life and Get Better. You can sign up for these here.
Thank you again for being a Golfweek Amateur Tour Member.
Sincerely,
Patrick Leahy
VP of Revenue - USA TODAY Golf
Publisher – Golfweek
CurrentNews:

As a Golfweek Amateur Tour Member, you will receive membership into a -USGA compliant club through USHandicap.com and issued an official USGA index.
Within 45 days of joining the tour and filling out the 2022 registration, each member will receive an email from USHandicap with instructions on how to sign into your account. You will not be able to access your Silver membership until you receive the confirmation email. Nothing will be mailed, everything will be done via email address.
See FAQ's here for more information.
Sign up today for Golfweek's FREE newletters reporting on the latest and greatest happenings in the game of golf.
2021 Metro NY Tour Policies

1. My Contact Information - Please put my cell phone number in your phones. 917-375-0450 Feel free to text me. This is Our Tour, so whatever suggestions or comments you have please let me know! Be sure to ask questions should any come up.

2. The GOLFWEEK Amateur Tour 2021 Tour Manual can be found here

http://www.amateurgolftour.net/2012_Golfweek_Tour_Manual.pdf

PLEASE READ IT - There is a great deal of information about the tour here.

3. Your Contact Information - Most tour communications are done via the email - therefore it is imperative that I maintain an accurate up-to-date list of e-mail addresses for everyone on tour. If you don't update your information with me, you will not receive our messages and you will miss out on important announcements! Please be sure I have your correct e-mail address.

Tee times and Tournament info will be sent out and posted on the 48 HOURS before each Tournament. Please check your email.

4. Tour Member Card & Logo'd Items - You will receive your GOLFWEEK Amateur Tour Member Card and logo'd items at the first event that you attend. You will receive your GOLFWEEK Magazine subscription in about 3-4 weeks after signing up for the Tour.

You will also receive an email from US Handicap explaining your login info and how to start posting all your scores.

Your Member Card is very important when playing Practice Rounds prior to scheduled events. Please be sure to carry it with you in your golf bag.





5. Disputes Policy - In the event of any uncertainty on a Rules question proceed by playing a second ball for that hole and we will make a ruling

when you turn in your scorecard. In the event that there is a dispute on the golf course - you suspect a rules infraction from another player, or you have a complaint about another member of your group - then the thing to do is bring it to my attention. If you See something Say something. I will address it accordingly. When in doubt about the rules, players should play two balls on that hole only - that way you won't be disqualified for a rules infraction.

6. Entry Deadlines - This season we are going to have entry deadline for all events - last minute entries may not be possible after this deadline - the deadline will be listed on website - check messages to be certain! YOU MUST REGISTER ONLINE - THE REGISTRATION LINK IS ON THE SCHEDULE PAGE NEXT TO EACH TOURNAMENT NAME - WHEN YOU REGISTER YOU WILL BE ABLE TO PAY FOR THE EVENT VIA PAYPAL.

7. Registrations & Payments - All payments are due via PAYPAL (unless previous arrangements have been made) prior to the event registration deadline. This will allow the host golf courses to release and fill our unused tee times. You may cancel without penalty prior to that deadline and any monies paid in will be credited to a future event. However, once the registration deadline has passed and Tee Times are posted, you are 'locked-in' to the event. Should you need to withdraw after Tee times are posted at minimum you will be responsible for a $40 Admin fee. If the course holds me to paying for your tee slot, you will be responsible for the entire tournament fee. Most courses require us to pay in full for all of the spots we reserved, whether or not you arrived to play in the tournament. Please understand that we must have this policy in place to protect the integrity of the Tour and all its players.

8. Tour Weather Policy - The tournaments play rain or shine unless the course closes - simple as that. If there is a weather emergency day of event, I will be in contact with you either by phone or e-mail. Be sure to stay tuned. In the event of a cancellation, you will be informed as to what happens to that event; first option is to look for a date to reschedule the tournament. Golf course policy dictates whether or not a refund will be available or a new date will be scheduled. In event of a complete cancelation your entry fee can be applied to a future event or a refund issued.



9. Tour Guests Policy (Non Playing) - It has become necessary to institute a new guest policy this season. Most venues do not allow outside guests at their facility. Please check with me if your guest would like to be a spectator and I will check with course if they permit it. Please make certain you understand this policy. It will be strictly enforced to protect the integrity of the tour and all its players.



10. Validation - You must complete a tournament round and turn in your signed scorecard in order to be eligible for Skins and Closest to the Pin contests. Any player who fails to turn in a signed scorecard will be listed as DNF (Did Not Finish). By not turning in your scorecard, you forfeit your entry money for the event's prize pool, and any monies paid in for Skins and Closest to the Pin and any other contests. This rule is in place to protect the integrity of the tour and all its players.

11. Local Rules & Pace of Play Guidelines–

These Local Tour Rules will be in affect at every tournament throughout the 2021 season.

In Addition Local Course Rules will be handed out at every tournament.

The Golfweek Amateur Tour's Pace of Play policy gives the responsibility of maintaining the pace of play with the player. Pace of Play plays a huge factor in the experience of each player on the Golfweek Amateur Tour. USGA rule 6-7 governs pace of play in the USGA rulebook.

Under Rule 6-7 and 33-1, the Tournament Committee may establish pace of play guidelines including maximum periods of time allowed to complete a stipulated round, a hole, or a stroke.

Each player is given 40 seconds to complete each stroke once it is his/her turn to play.

If your routine is causing you to take longer than 40 seconds, then you need to improve your pace of play. Ready golf, continuous putting, good cart etiquette, and preparing to putt while others are putting are all good suggestions to speed up play.

You have 3 minutes (Not 5) to search for a lost Ball.

Our goal is to play our rounds in 4:30-4:45 and that means everyone will need to play ready golf. Ready Golf is simply defined as HIT WHEN READY. If you reach your ball and are ready to hit, please proceed. Keep in mind that there no penalties in the Rules of Golf violating the order of play in stroke play. Rangers have the authority to encourage the pace of play.

Each group will be expected to finish within 15 mins of the group in front of them.

Any Group that doesn't report to the scorer's table within 15 minutes of the group in front of them will be assessed a 1 stroke penalty for Slow Play (Entire group gets Penalty).

Tournament officials are not required to notify a player and/or group that they are behind. The group is responsible as well as each individual player in the group. Each group is responsible for monitoring its own pace. Consider yourself warned on the first tee. Proper pace is right behind the group in front of you.

DROP ZONES

ARE NOT IN EFFECT, Do not use them in a Golfweek tournament rounds

ONE BALL RULE

The One Ball rule is not in effect however players are encouraged to use the same ball throughout the round.

MARK YOUR GOLF BALLS

Players are required to mark their golf balls and identify them to their playing partners.

DISTANCE MEASURING DEVICES

Rangefinders and GPS units are permitted for tournament play assuming the units do not adjust for slope and/or wind direction and speed.

CLOSE OF COMPETITION

The competition is deemed to have closed when the trophy has been presented to the winner or, in the absence of a prize ceremony, when the scores have been approved by the Committee.

Live Scoring will used at all tournaments along with the OFFICIAL PAPER SCORECARD.. Players are expected to come prepared to EACH tournament with their smartphone ready to go for Live Scoring. Each group will receive a paper scorecard to track their scores as well. It is recommended to have one member of the group track scores on the paper scorecards and another, separate player, to track on live scoring.

After the tournament round, at the scoring table, players should compare live scoring and the paper scorecard to ensure both agree. Once in agreement all players must sign the scorecard, thus declaring the scores as final.

If a player submits a signed paper scorecard with a lower score on a particular hole than the actual score, the player will be disqualified from the tournament. It's crucial that all players come to agreement BEFORE the scorecard is submitted final.

There is a little preparation everyone needs to do ahead of time to make this a success for everyone involved. For complete instructions on setting up live scoring, full Details can be found here: 2019 Live Scoring Info

We are looking forward to seeing you on Tour this year as we have a Great Season in store for 2021

PLAY WELL!!! – SEE YOU ON THE TEE !

As always, Thanks for playing on our Tour!