Indiana-Western KY
WhatsNew: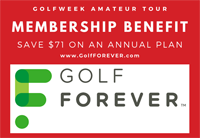 To all Golfweek Amateur Tour Members,
On behalf of the entire Golfweek organization, I want to thank you for your membership of the Golfweek Amateur Tour. We are incredibly proud of our relationship with what we feel is the best option for organized amateur competition for folks like you and me.
I am writing to inform you of some changes to our magazine frequency and format for 2021. Our plan is to publish four issues in 2021 including our annual Golfweek's Best in April and Ultimate Guide in December. In addition to these two issues, we will publish a new issue called Get Equipped in February that will highlight everything new in the game for 2021 including equipment, gear, places to visit and more. The second new issue is titled Golf Life in July and will feature in-depth stories and interviews with the movers, shakers and personalities that drive the business and sport of golf. We are excited about the new schedule and plan to bring the same style of expert, in-depth journalism that you expect from Golfweek..
I hope that you also enjoying www.golfweek.usatoday.com as well as our weekly digital newsletter products including: Monday Rewind, Get Equipped, Get Primed, Golf Life and Get Better. You can sign up for these here.
Thank you again for being a Golfweek Amateur Tour Member.
Sincerely,
Patrick Leahy
VP of Revenue - USA TODAY Golf
Publisher – Golfweek
CurrentNews:

As a Golfweek Amateur Tour Member, you will receive membership into a -USGA compliant club through USHandicap.com and issued an official USGA index.
Within 45 days of joining the tour and filling out the 2022 registration, each member will receive an email from USHandicap with instructions on how to sign into your account. You will not be able to access your Silver membership until you receive the confirmation email. Nothing will be mailed, everything will be done via email address.
See FAQ's here for more information.
Sign up today for Golfweek's FREE newletters reporting on the latest and greatest happenings in the game of golf.
2020 Local rules – Indiana/W Kentucky Golfweek Amateur Tour/Senior Amateur Tour

1. Pace of play will be monitored very heavily this year. The 18-minute rule will be implemented this year. Each group will have 18 minutes to turn your score card in after the group in front of you. PENALTY: 2 strokes for each player in your group. The first group out will have 4 hr. 30 minutes to finish their round, unless the public groups ahead of them are greater than 4 hr. 30 min. All groups should finish their round in 4 hrs. 30 min. PLAY READY GOLF

2. Prize Pool winners. You will have the option to carryover your winnings and apply to a future tournament entry fee.

3. Cancellation/no show fee - $25. If you have not notified the TOUR DIRECTOR by phone or email by 5:00 on Friday, you will be charged a $25 cancellation fee. Prize Pool payouts are determined before the tournament. If the course charges me green fee for a no show, you will also be responsible to pay that as well.

4. Flight winners/Player of the Year awards will be based on the tour website points standings. A player MUST play in 7 events to be eligible to win their flight or Player of the Year award. Any player that moves up a flight (ie: B flight-A flight), will not lose points in calculation of Player of the Year. The calculation will be done manually by Tour Director.

5. Skins will be $10/flight, Super Skins (all flights) will be $10.

6. Closest to Pin will be $5. Payout will be on all Par 3's. (ex: 20 players @ $5 = $100. Payout $25 for each par 3).

7. All 2019 USGA rule changes will apply except for the Out of Bounds rule. A ball hit out of bounds will require a rehit from original spot + 2 stroke penalty.

Prize Payouts for Guests

Guests will not be allowed to place any higher than 3rd place in any event for all flights. If a guest places higher than 3rd place, they will be moved to 3rd place and those that were in 2nd and 3rd place will be moved up to 1st and 2nd place, provided that they are not guests and have met the minimum 2 tournament rule for New Members. Prize money awarded to any guest for placing must be used towards the purchase of a membership or future event. Any cash games winnings will be paid to the guest.