Denver, CO
WhatsNew: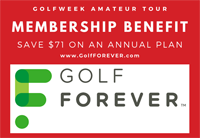 To all Golfweek Amateur Tour Members,
On behalf of the entire Golfweek organization, I want to thank you for your membership of the Golfweek Amateur Tour. We are incredibly proud of our relationship with what we feel is the best option for organized amateur competition for folks like you and me.
I am writing to inform you of some changes to our magazine frequency and format for 2021. Our plan is to publish four issues in 2021 including our annual Golfweek's Best in April and Ultimate Guide in December. In addition to these two issues, we will publish a new issue called Get Equipped in February that will highlight everything new in the game for 2021 including equipment, gear, places to visit and more. The second new issue is titled Golf Life in July and will feature in-depth stories and interviews with the movers, shakers and personalities that drive the business and sport of golf. We are excited about the new schedule and plan to bring the same style of expert, in-depth journalism that you expect from Golfweek..
I hope that you also enjoying www.golfweek.usatoday.com as well as our weekly digital newsletter products including: Monday Rewind, Get Equipped, Get Primed, Golf Life and Get Better. You can sign up for these here.
Thank you again for being a Golfweek Amateur Tour Member.
Sincerely,
Patrick Leahy
VP of Revenue - USA TODAY Golf
Publisher – Golfweek
CurrentNews:

As a Golfweek Amateur Tour Member, you will receive membership into a -USGA compliant club through USHandicap.com and issued an official USGA index.
Within 45 days of joining the tour and filling out the 2022 registration, each member will receive an email from USHandicap with instructions on how to sign into your account. You will not be able to access your Silver membership until you receive the confirmation email. Nothing will be mailed, everything will be done via email address.
See FAQ's here for more information.
Sign up today for Golfweek's FREE newletters reporting on the latest and greatest happenings in the game of golf.
DENVER GWAT LOCAL TOUR POLICIES

If there is a disagreement or uncertainty of the Rules of Golf

Player must announce that he is playing a second ball. First ball played will be the ball as it lies; second ball will be according to the alternate rule. At the conclusion of the round, the Tour Director will make the final ruling.

TIEBREAKERS

All first place ties will be decided by sudden-death playoff on the course if possible.
When necessary to break ties for prize purposes, The USGA system will be used.
(best total of last 9 holes, if the tying players have the same score for the last 9 holes, they check the last 6 holes, then the last 3 holes, and finally the 18th hole).

DROP ZONES

If a course has designated drop zones, you may use them.

DISTANCE MEASURING DEVICES

Rangefinders and GPS units are permitted for tournament play assuming the units do not adjust for slope and/or wind direction and speed.

BUNKERS

In the event that your ball is in a bunker that is unplayable due to the condition of the bunker (bunker washed away, limited sand, ball in footprint) and with approval from your playing partners the tour will allow you "Rake and Roll". This means that the player can lift the ball. Rake the trap to create a "normal" bunker condition and then Roll the ball into the raked spot.

PACE OF PLAY POLICY

Our pace of play policy is very simple - KEEP UP WITH THE GROUP IN FRONT OF YOU!

However if we find groups falling behind they will be warned once. If there is no improvement, the entire group may be penalized one stroke. If it still does not improve, the group may be asked to move into position and take triple bogey max.

Remember your correct position on the course is immediately behind the group in front of you, not immediately in front of the group behind you.

LOCAL RULE - Unmarked Heather & Native Areas will be played as a Lateral Hazard

If you hit into unmarked heather or native areas you DO NOT need to hit a provisional ball. If you cannot find your ball simply drop at the nearest point of entry, where the ball last crossed the margin of the hazard, within 2 club lengths no closer to the hole.

If you find your ball in unmarked heather or native areas you must play the ball and you may ground your club.

White stakes signifying out of bounds will still be played as a penalty and require a provisional.

PLAY READY GOLF

Our goal is to play our round of golf in 4:30, and that means we need to play Ready Golf. Ready Golf is simply defined as HIT WHEN READY. If you reach your ball and are ready to hit, while other members of your group are not yet prepared, then go ahead and hit. There are no penalties under the Rules of Golf for violating order of play in Stroke play. Course Rangers as well as Tour Directors will have the ability to issue warnings to slow groups. All Players in groups will have authority to encourage faster play within groups.

TRIPLE BOGEY MAX ON ALL HOLES

The maximum score on any hole is triple bogey. Players MUST pick up their ball and help their group finish the hole as quickly as possible.

WAVE UP PAR 3s

If your group has not removed the pin from the hole on ANY par 3 and a group is waiting on the tee box, please wave them up.

CONTINUOUS PUTTING

All players are encouraged to play ready golf and to finish their putting and not mark short putts. Players should announce their intentions to finish and confirm their playing partner's acceptance.

MOVE QUICKLY

All players should play ready golf and move quickly and diligently throughout the round. Work as a team. Rake bunkers for your playing partners, help them look for lost balls, pick up clubs, play ready golf, be positive.

Be respectful – but be ready to play when it is your turn!

CART PROTOCAL

DRIVERS of carts should DROP OFF their partners, let them CHOOSE their clubs (take extra ones if required), DRIVE to their own balls, and then get READY to play. DRIVERS should NOT wait for their partners to hit the shot and then drive to their own ball to hit their shot.